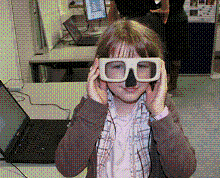 On Friday afternoon I was at the summer party of the
chair of ergonomics at the Technical University of Munich
.
Klaus Bengler
, who took over the chair earlier this year and became professor, had in his talk 3 interesting points to take away:
to assess more how much does bad ergonomics costs us (from health to missed sales)
to quantify the value of ergonomics in real money in order to make it comparable with other factors in product design
to include ergonomics as an integral part of the development process
From my Computer Science/HCI perspective I think (2) would be top of the list - as we have good approaches to (3) but need (2) to push it and as (1) is part of (2)… It would be great to have an argument based on economics. E.g. adding tactile feedback will costs
x
€ and it will increase the value of the product by
y
€ - if
x>y
do it - else don't … still no idea how one would do this - but would be great if possible!
The researchers and students had prepared a large number of demos - mainly centered on ergonomics in the car, sports ergonomics, and mobile eye-tracking. Hard to pick a favorite but I liked the joystick control for steering a car a lot (there will be a paper on this at the automotive UI conference).